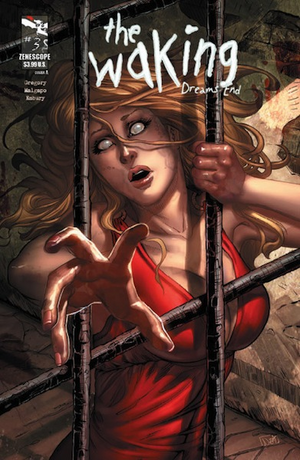 Comic Details
Publication Details
Story Arc Title:
The Waking: Dreams End
Release Date:
August 8, 2012
Digital Release Date:
August 22, 2012
Issue #:
7
Series Volume #:
2
Story Arc Issue #:
3
Story Arc Volume #:
1
Dreams End 3 is issue 7. It is the third part of the second story arc.
Summary
The hit series that redefines the zombie genre continues...
After her partner's shocking death, Vanessa must continue the search for the the mysterious serial killer. But when the trail begins to heat up with clues leading to a possible suspect, Vanessa will quickly find that she may have bitten off more than she can chew.
Person, Place, or Thing
Ad blocker interference detected!
Wikia is a free-to-use site that makes money from advertising. We have a modified experience for viewers using ad blockers

Wikia is not accessible if you've made further modifications. Remove the custom ad blocker rule(s) and the page will load as expected.